I wrote this a year ago and posted it on Facebook. I've added a few links here and there and gratuitous baby photos at the end, but otherwise I've left it the same and I am just archiving it here.
***
Today Lucy is one hundred days old. It is two days before her due date and one day after eye surgery to keep her from going blind from the oxygen that has helped her breathe for these fourteen weeks. It is Saint Lucy's Day. Saint Lucy, whose name means "light," is the patron saint of the blind.
When we started saying to each other last summer, "I like the name 'Lucy,' do you?" I was thinking about a December child, one who might even be born on Solstice. I thought it was a sunny, optimistic name that might fit a little girl bringing hope and light into a dark, cold month.
Today, at dawn, it was below freezing but it was beautiful. The sky was lit up in the east, all purples and pinks over the lights of Children's Hospital as we drove towards it. It was exactly the kind of winter day I had pictured months ago. It was the kind of sunrise that everyone comments on, the kind that makes us say, "I love living here." You can see photos of it by going to Twitter and typing "Denver" and "sunrise" into the search box.1
I dropped off my husband, and instead of turning the radio to NPR like I would have done, he plugged my iPhone into the stereo before he got out of the car. He chose the playlist I made for Lucy, and Emmylou Harris sang "If I Needed You."
In the night forlorn the morning's born
And the morning shines with the lights of love
You will miss sunrise if you close your eyes
That would break my heart in two2
The moment crystallized then for me—my thoughts of our child, her perfect name, her vision which will be okay, and of that sky, all coming together today.
And then I turned onto the highway and headed to work, west towards the mountains, and the song switched to the Beatles, to "Good Day, Sunshine," and I thought, a moment like that can certainly get a mother through a day, a long month, and maybe even a whole hard year.
***
Lucy, yesterday: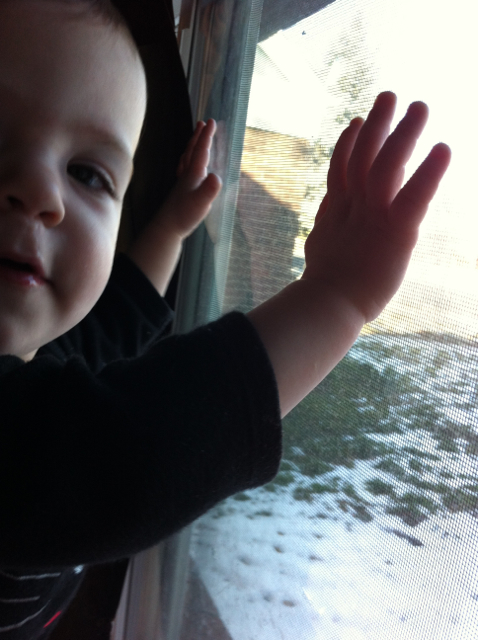 Searching Twitter archives for something like this isn't easy, but it was impressive enough that a local new station created a slideshow which is still available. ↩
Lyrics by the great Townes Van Zandt. ↩