This spinach and feta mini-muffin recipe came from Flickr user Dieting elsie who is part of the Laptop Lunches group there. We will come back to the Laptop Lunch thing. First, the muffins.
I know having the ingredients all on the counter is kind of a food blog cliche and is made fun of a little in some circles, but I'm going to do it anyway because I find it helpful to see what someone bought for some recipes. Sometimes it's hard to picture an unfamiliar ingredient or to know what to look for in, say, the cheese department.
Plus, I think it's interesting to see the variations in packaging and availability in different parts of the country.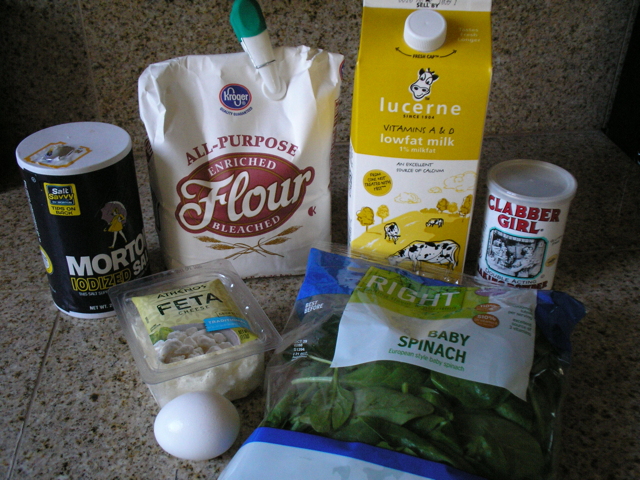 For instance, Kroger brand flour? I didn't know what that looked like two months ago. I'd heard of Kroger, but that's it. And now it's here on my counter!
It's the little things.
Spinach and Feta Mini-Muffins
275g plain flour (2 cups + 2 tbsp + pinch)
1 tbsp baking powder
1 large egg
225ml milk (7.6 oz)
1 tsp sea salt
100g baby spinach leaves (torn up a bit) (3.5 oz)
100g feta, in small cubes (3.5 oz)
Mix first five ingredients well, but not letting in too much air, so just folding really, then add spinach and feta. Grease a 24 mini muffin tin (I used olive oil). Cook on 200 C (~400 F or a little less) for 20 minutes.
Okay. Dieting elsie's recipe was in metric, but fortunately Google helped me turn those measurements into something that made sense at the Kroger (actually, Kroger stores are called King Soopers here, just to be confusing) and in my American kitchen.
You can tell by my ingredient photo that I didn't splurge on any fancy salt and that I just bought one of those 4 oz packages of feta that are in crumbles, not cubes. I filled up the liquid measuring cup with milk to about halfway between the 7 and the 8 oz marks. I eyeballed two-thirds or so of the 6-oz bag of spinach, and I used the whole 4 oz of cheese. I know that baking's a science and people like to stress how important measuring is, but I think muffins have some leeway.
Also, I've made this same recipe at sea level and now at high altitude, and I can't tell if there was any difference. So you can try it with confidence no matter where you are.
The muffin batter is really thick and barely hanging on to the spinach and feta. It'll be okay, though.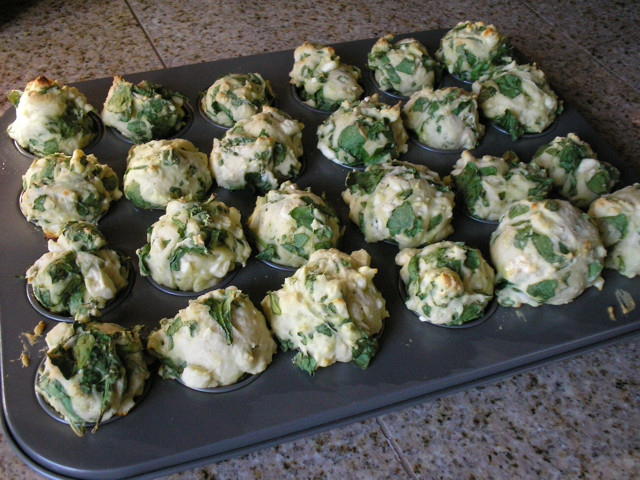 They also overflow the muffin cups when cooked, but I think they look flowery and festive. (They did this at sea level, too, so it's not an altitude weirdness.)
So, a Laptop Lunch is what one packs in one's Laptop Lunchbox, which is a kind of Americanized bento box. A bento is a traditional style of Japanese lunch that's packed tightly in a cute little box. You can google this and find a bazillion examples and some webpages that explain it all a lot better than I can.
I don't do the traditional Japanese thing, and I don't do "real" bento boxes. I'm sure I will talk about this more later, but I stick to the Laptop Lunch brand system for a couple of reasons, but mainly just as a way to limit myself. I have to consciously choose what I am going to collect and where my boundaries are so I don't end up (and I say this and link with love) out of control.
I eat at home these days, so I have not been packing bento lunches, but I still reflexively buy and prepare food with bentos in mind. I like having a stocked freezer of little things like mini muffins, two-inch tubs of spaghetti sauce, mini bagels, ravioli, baby cups of pudding, and post-Halloween clearance candy. I made and froze applesauce the other day, too. Most of these mini muffins will go in lunches once I'm back to packing them. (I ate two, and then I threw the rest in a gallon ziploc bag after they cooled and put them straight in the freezer.)
Here are a couple of photos of lunches that include muffins from the last batch I made.
This lunch has cheese ravioli, a little spinach quiche thing, Wheat Thins, a Laughing Cow cheese wedge, apple slices, Teddy Grahams, a muffin, chocolates, and pistachios.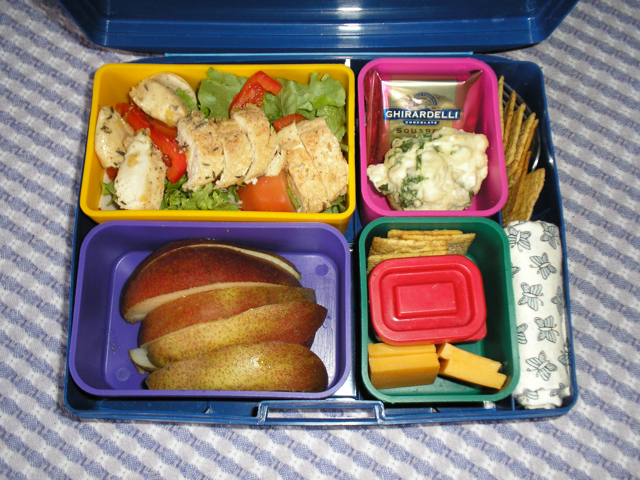 This one has a quick salad with leftover chicken thrown on top, a chocolate square, a muffin, pear slices, Wheat Thins, cheddar cheese, and dressing (in the red box). That's a little fork and a napkin there too. I probably made these close in time to each other, given the overlap of contents.
I have plenty more examples of bentos and links to cool blogs and everything. I'd meant to share them now, but I think I will wait so I don't overwhelm or bore you.
So, go make these muffins, google up some bento photos, and come back later.