My husband is a big bacon and onion dip fan, but when we moved away from the Pacific Northwest, he no longer had access to his preferred brand.  We settled for a just-onion substitute in Nebraska, but here in Cajun Country, the pickings were slimmer and nothing tasted right.  So it occured to us that it couldn't be too hard to make dip.
I looked in How to Cook Everything and Joy of Cooking for a basic onion dip.  Nothing seemed perfect, so I took ingredients from recipes in both to create something that sounded good.  And it was.  After I made it a couple of times, we took it to the next level by adding bacon.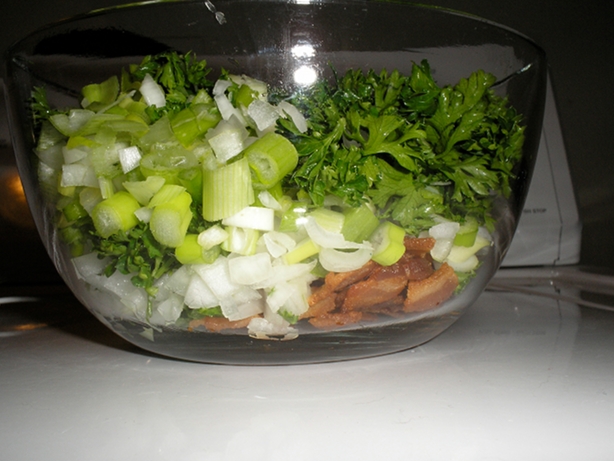 Please excuse the ugly and dirty counter, the coffee paraphernalia in the background, and the bad lighting. Taking pictures of this process was a spur-of-the-moment decision and I didn't feel like staging. And I'm no Pioneer Woman, okay?
I use (approximately)
2 cups sour cream
~1/2 cup minced Italian (or regular) parsley
~1 cup minced onion (usually about half green and half yellow)
1/4 tsp paprika
1/2 tsp salt
fresh ground pepper
squeeze of lemon
~tsp of dried chives
4 strips of bacon, cooked and cut into bits
I actually do not measure anything, so this is flexible.
I cooked the bacon another night when we had a dish requiring it. I use kitchen shears to cut the raw bacon into a small frying pan, cutting about 1/3 of an inch bits. You can hold the strips all together and cut several at once. Then cook it, stirring often. Of course, you could also cook it in the regular way and then crumble it. I have no idea which is faster or easier. If you aren't using up the bacon in the package, it freezes well.
More often than not, we have half an onion and/or half a bunch of green onions in the refrigerator left over from some other meal and I just use whatever's there without measuring it. I like to use more than one kind of onion because it creates a layering of taste. No, I just made that up. It sounds good, though, doesn't it? I don't know, it just adds some color to use more than one kind. I have used green and yellow, green and red, red and yellow–it all tastes good.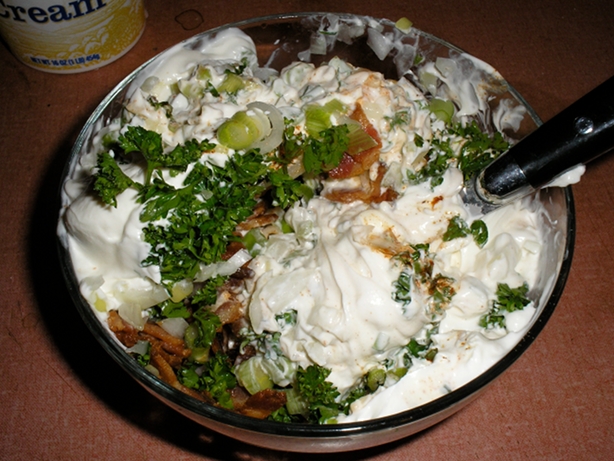 I used about a third of a bunch of parsley here. This is the regular kind of parsley. The Italian kind is flat. I can't tell you how they taste different. I tend to plan making this dip when I'm buying parsley for something else and then I just save a little from the bunch.
By "squeeze of lemon" I mean the juice from a half of a baby lemon. Or so. It doesn't matter. You can leave it out if you don't have it.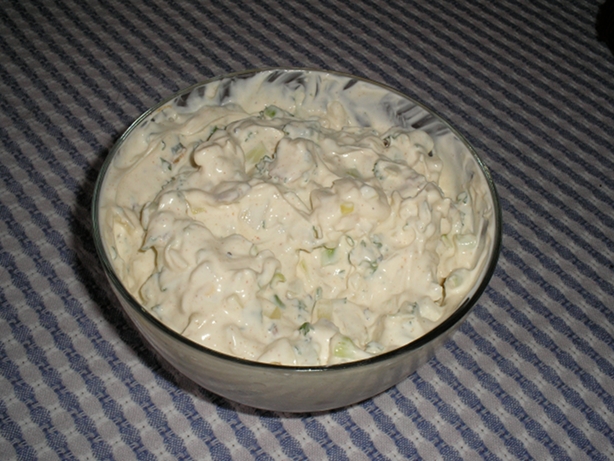 We eat it with potato chips or pretzels. It's kind of lumpy, so it needs a sturdy scooper.
I hope you like it! We won't be going back to grocery store dip.